Most companies pursuing an acquisition have predictable goals in mind—boosting market share, perhaps, or diversifying earnings. But drugstore operator CVS Health Corp. has somewhat grander ambitions for its $67.5 billion purchase of health insurer Aetna Inc.: changing the way Americans go to the doctor. The deal would create a behemoth that would try to shift some of Aetna customers' care away from doctors and hospitals and into thousands of CVS stores. "Think of these stores as a hub of a new way of accessing health-care services across America," says CVS Chief Executive Officer Larry Merlo. "We're bringing health care to where people live and work."
The buyout would combine the largest U.S. drugstore chain with the third-biggest health insurer. CVS also manages drug benefits plans for thousands of employers and insurers, a business that could help steer some of Aetna's 22 million customers to CVS pharmacy counters when they fill a prescription. Already, CVS has 1,100 MinuteClinics in its pharmacies, where nurse practitioners and physician assistants provide routine care such as flu shots or wrapping sprained ankles. It's also trying out hearing and vision centers in a handful of locations. If the merger goes through, CVS plans to build mini-health centers in many more of its 9,700 stores, turning them into places where Aetna members—and customers of rival insurers—get convenient low-level care for ailments and chronic diseases. And having a closer tie to where customers are treated could help Aetna better manage their ailments earlier, more efficiently—and less expensively.
Although some on Wall Street say CVS's interest in bulking up is a defensive move driven by persistent rumors that Amazon.com Inc. may enter the pharmacy business, the company seems to have a different rival in mind: UnitedHealth Group Inc. The biggest U.S. health insurer, UnitedHealth has been expanding its OptumCare arm, which owns clinics and surgery centers, as it seeks to gain more control over how care is delivered to its customers. UnitedHealth agreed on Dec. 6 to acquire about 300 doctor practices fromDaVita Inc. after striking an agreement in January to acquire the outpatient surgery chain Surgical Care Affiliates Inc.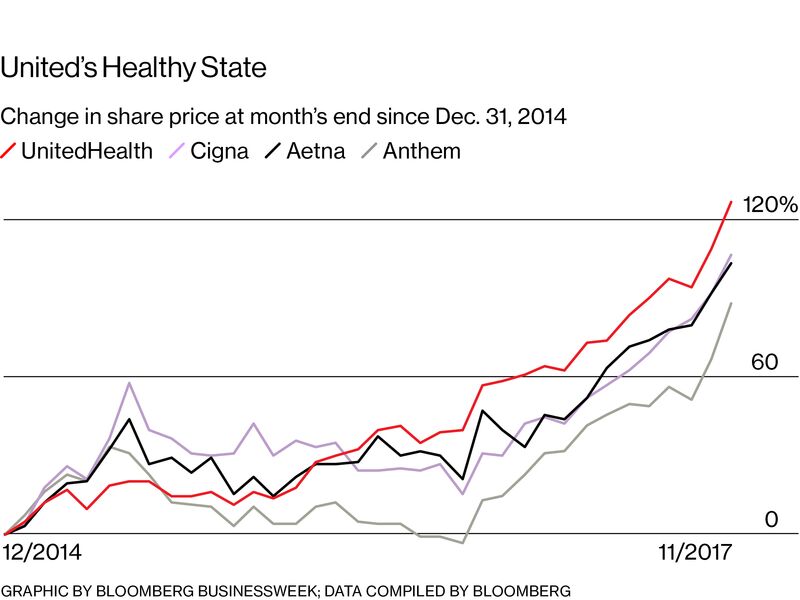 Even before the DaVita deal, about 30,000 doctors were affiliated with OptumCare. They treat UnitedHealth's members, as well as customers of rival health insurers. The company doesn't own drugstores, but its pharmacy benefit manager serves 65 million people—compared with 90 million members at CVS's PBM. UnitedHealth's profits and share performance have outpaced those of many other big health companies in recent years.
"The path here has been led by UNH/Optum," Matthew Borsch, an analyst at BMO Capital Markets, said in a research note about the CVS-Aetna plan. "We see a bold strategy to match (and possibly leapfrog) the health-care/PBM integration strategy."
The integration is part of a wide-ranging effort by health insurance companies and the federal government to shift care away from paying for each service and toward paying doctors and hospitals for taking better care of patients and keeping them healthier. The approach, known as value-based care, challenges the industry's traditional reimbursement models.
Putting different aspects of care under the same roof also can remove perverse incentives from the system. For example, some critics have said that PBMs contribute to drug price hikes because they profit from back-end rebates and fees extracted from pharma companies. Making them part of the same company that delivers care and offers health insurance can ensure it doesn't happen, says Craig Garthwaite, a professor of strategy at Northwestern's Kellogg School of Management. When different parts of the system combine, "everyone's profit motives are aligned at providing care that leads to good outcomes," he says.
CVS and Aetna say they'll be able to reduce costs by directing some patients to lower-cost sites of care in CVS stores, keeping them out of emergency rooms and hospitals. About 70 percent of the U.S. population lives within 3 miles of a CVS location, according to David Larsen, an analyst at Leerink Partners.
"This is going to be appealing to a huge number of people," says Ingrid Lindberg, president of Kobie Marketing Inc. and a former chief customer experience officer at health insurer Cigna Corp. "There's a large majority of people who are truly driven by ease and convenience when it comes to their care."
Ateev Mehrotra, a professor at Harvard Medical School, says his research has found that retail clinics, by making care more convenient and accessible, actually raise health-care costs because people go to them more often. That's bad news if you're also an insurer. "The majority of visits we see at retail clinics represent new utilization," he says. "Because of that, in contrast to the people who have said retail clinics would reduce health-care spending, we've seen it increase health-care spending."
Debating such outcomes could remain an academic exercise if the CVS transaction doesn't gain government approval. Courts and regulators tend to go easy on "vertical" mergers, such as CVS-Aetna, which combine companies at different levels in the supply chain, such as manufacturers with retailers. The logic is that the combination can improve efficiency and lower prices for consumers. Authorities tend to worry more about "horizontal" mergers, which combine companies at the same stage of production. In January a federal court blocked Aetna's proposed horizontal merger with Humana Inc., a fellow health insurer.
In weighing the CVS-Aetna deal, the Department of Justice or the Federal Trade Commission could try to determine "whether there is a long-term economic benefit to a strategy that harms rivals even if it means a short-term hit to profits," says Jennifer Rie, a senior analyst at Bloomberg Intelligence.
CVS won't get a free pass. In November the Justice Department sued to stop the merger of AT&T Inc. and Time Warner Inc., also a vertical integration. The CVS-Aetna dealmakers are making the case that their combination would bring new services to the market, such as the planned pharmacy clinics. That could persuade regulators to give the proposal a chance. In contrast to AT&T-Time Warner, says Jonathan Rubin, an antitrust attorney and partner at MoginRubin LLP, "it's a more believable story that the vertical merger is related to innovation."
The buyout rests on an untested strategy, however, and some on Wall Street question whether the companies can persuade enough consumers to switch to their in-house services. Says John Schroer, a health portfolio manager at Allianz Global Investors: "Health care is a very complicated business, and it's not so easy to say it's a new world and just do it this way." —
BOTTOM LINE –
CVS operates 9,700 drugstores. By buying Aetna, it wants to funnel more of the insurer's customers into health centers at its retail locations.
Read more: http://www.bloomberg.com/news/articles/2017-12-07/cvs-s-68-billion-bid-to-bring-one-stop-shopping-to-health-care