Eric Malenfer, who runs a land-surveying business in the Paris suburb of Sevres, was taken aback when two employees of a small consulting firm he'd just acquired told him they wanted to be fired.
Malenfer refused after they said they wanted a payout. The two wouldn't take no for an answer. They stopped coming to work regularly and failed to do assigned tasks, he said. Then when he fired them, they sued the company for wrongful dismissal. A labor tribunal upheld one worker's claim, awarding him 50,000 euros ($59,100). Unwilling to gamble, Malenfer settled with the other for the same amount.
"It was a colossal blow" for his company, Gexpertise Group, which at the time had annual revenue of less than 6 million euros, he said.
Malenfer's experience helps explain why French employers are so enthusiastic about President Emmanuel Macron's overhaul of labor laws. A package of measures signed into law on Sept. 22 will place a cap on labor-tribunal awards to workers while granting employers more flexibility to negotiate with personnel.

"The life of a company has highs and lows, but we've been given no capacity to adjust," said Herve Allart de Hees, who owns Tadeo, a company near Paris that develops technologies to help deaf people communicate in the workplace. Macron's reforms "will create a climate of more confidence, more flexibility."
French employers of all sizes complain about the 3,037-page labor code, which governs everything from the length of bathroom breaks to window dimensions in work areas. But its burden falls most heavily on small-to-midsized companies that don't have teams of lawyers and personnel specialists to ensure compliance, said Gilbert Cette, an economist at the University of Aix-Marseille who studies labor law.
Easing that load is central to Macron's promise of an economic revival to lower unemployment that has hovered near 10 percent for most of the past five years, with youth unemployment more than double that. The new president also wants to encourage entrepreneurship and convince young French professionals who've sought opportunity elsewhere that they can prosper at home. "Come back! France is now the land of conquest!" he told an audience of French expatriates in New York City on Sept. 19.
One of the biggest risks for small French companies is an adverse ruling by the labor tribunals that adjudicate employer-employee disputes. The tribunals side with workers in about 72 percent of cases, with awards that average 24,000 euros but can run into the hundreds of thousands, according to Justice Ministry figures. Proceedings can drag on for years, and small employers often stumble on technicalities such as failing to send dismissal notices by certified mail. Losing a case can be "like an atomic bomb" for small companies, Cette said.
To minimize that, they avoid hiring. An analysis by the European Union found that employment growth at small-to-midsized French companies with fewer than 250 workers was only 0.1 percent in 2015, the second-lowest rate in the EU after Finland and far below the EU average of 1.5 percent for companies with 250-and-under headcounts.

Arcure, in the Paris suburb of Pantin, has stopped expanding its 22-person staff as it battles labor-tribunal claims by two former employees. The company, which makes collision-avoidance sensors for trucks and construction equipment, now uses subcontractors to perform functions such as installation and sales.
"It's a shame to outsource all of this, but we have to be cautious," Chief Executive Officer Franck Gayraud said. He plans to resume hiring "little by little" after reforms take effect.
Unions have fiercely opposed limiting awards by the tribunals—to about one month's pay for a year of service up to 10 years and a maximum payout of 20 months. Voters appear skeptical as well. In an Odoxa survey published Aug. 31 by the newspaper Le Figaro, 52 percent of respondents said labor changes would encourage economic growth and employment—but 57 percent opposed limits on awards by tribunals. Strikes and protests organized by unions and political opponents this month drew relatively little participation by French standards. And they failed to derail the law, which was passed by decrees authorized by parliament.
To spur hiring, the Macron changes include rolling back a labor law that imposes tough new regulations on companies when their workforce reaches 50. Another provision will allow smaller companies to negotiate directly with their employees on pay and other issues, rather than be bound by national contracts negotiated by union and industry leaders. These agreements have helped create a two-track job market in France: More than 80 percent of recent hires work on temporary, short-term contracts.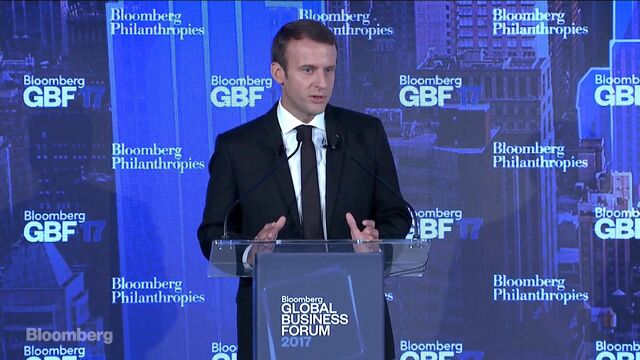 "The system we have in France is crazy," said Frederic Durand, who runs a software startup in the Paris suburb of Levallois-Perret. "It's adapted to the economy as it was decades ago." He has limited his French workforce to 30 while recruiting workers in Britain, Germany, and Spain.
Malenfer says the reforms would greatly simplify management of his surveying company, which now employs 200 people. It's covered by two different national contracts, each with different rules on working hours, health-insurance coverage and other matters. Gexpertise has a three-person human-resources department—above the global average for a company of its size—and he said keeping up with labor rules occupies all their time.
"It hasn't prevented us from growing," Malenfer said. "But it slows us down and tires us out. We have a real desire to develop internationally, we just have to become more agile."
Read more: http://www.bloomberg.com/news/articles/2017-09-27/getting-fired-in-france-doesn-t-pay-like-it-used-to