Donald Trump clashed with Senate Republicans on the healthcare bill and Robert Mueller, in a tumultuous week that ended with Sean Spicer quitting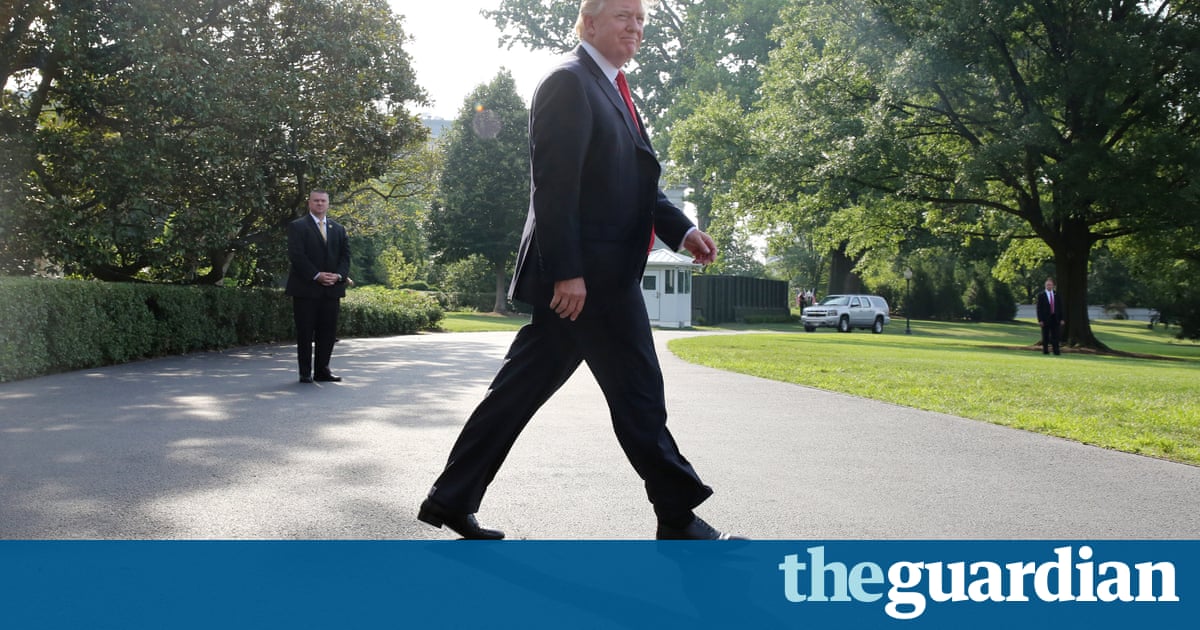 It was a week full of difficult news for the Trump administration on both the healthcare and Russia fronts, at the end of which White House press secretary Sean Spicer resigned.
After the failure of Senate Republicans to push healthcare reform through, Donald Trump said he would let Obamacare fail, then changed his mind and demanded that Republicans skip their August recess until they get the bill done. Separately, the president appeared to be on a collision course with special counsel Robert Mueller, whose expansion of his investigation to look at Trumps finances was announced on the same day that Trump said it would be a violation of Muellers mandate for him to do that.
Last weekend
Trump returned from France and headed straight for his golf course in Bedminster, New Jersey, which was hosting the US Womens Open. Trump spent the weekend touting the tournament on Twitter and waving to the crowds from inside his clubhouse.
Also on Twitter, Trump kept up a defense of his eldest son, who took a June 2016 meeting with Russians in hopes of receiving dirt on Hillary Clinton. Hillary Clinton can illegally get the questions to the Debate & delete 33,000 emails but my son Don is being scorned by the Fake News Media? Trump tweeted.
The president also attacked an ABC News/Washington Post poll showing him holding a 36% approval rating, a historic low for a president six months into his presidency. He could not resist inflating his approval rating, tweeting: The ABC/Washington Post Poll, even though almost 40% is not bad at this time, was just about the most inaccurate poll around election time!
The Republican plan to pass healthcare reform legislation in the Senate was derailed when Senator John McCain, 80, underwent surgery to remove a blood clot above his eye. McCain was expected to be out for at least a week and possibly more.
Monday
Trump hosted the first day of Made in America week at the White House, which amounted to him admiring large trucks, donning a cowboy hat (briefly) and making a speech about the importance of American companies manufacturing products in America. Many critics accused the president of hypocrisy, pointing out that most Trump-branded products, from Donald Trump ties to Ivanka Trump dresses, are made overseas, not in America. Addressing the criticism, press secretary Sean Spicer suggested that it was OK to manufacture certain products overseas but not others.
Spicer also sought to put a positive spin on the June 2016 meeting between Donald Trump Jr and Russian operatives, saying there was nothing as far as we know that would lead anyone to believe that the meeting wasnt about adoption policy. Trump Jr himself told Fox host Sean Hannity the previous week that the meeting was about getting dirt on Hillary Clinton, but the Russians failed to deliver.
Trump also said he hoped McCain gets better quickly. Hes a crusty voice in Washington, Trump said. Plus we need that vote on healthcare.
Tuesday
Trump spent the day responding to the collapse late the night before of a Republican-led Senate plan to fix Barack Obamas healthcare law. At first Trump called for a straight repeal vote on Obamacare, to be followed by a replacement plan. Despite a similar effort having failed just seven months ago, Republican Senate leader Mitch McConnell appeared to take Trump at his word, announcing on Tuesday morning a plan to vote on an Obamacare repeal, without a blueprinted replacement. But then Trump suggested different tactics, tweeting: As I have always said, let ObamaCare fail and then come together and do a great healthcare plan. Stay tuned!
Later, Trump described his thinking further, saying: Let Obamacare fail and it will be a lot easier. And I think were probably in that position where well let Obamacare fail. Were not going to own it. Im not going to own it. I can tell you the Republicans are not going to own it. Well let Obamacare fail and then the Democrats are going to come to us.
Will Republicans own it? Most polling indicated that Republicans, who control both houses of Congress plus the White House, would own it. But further action on the legislation was anticipated on Wednesday.
There were two significant revelations on the Russia collusion front, meanwhile. The identity of an eighth, previously unknown person to have attended a June 2016 meeting with Donald Trump Jr emerged. He was Irakly Ike Kaveladze, a Russian American businessman once accused of laundering more than $1.4bn into the US from eastern Europe. Separately, it emerged that Trump held a second, previously undisclosed meeting with Russian president Vladimir Putin at the G20 summit in Germany the previous week. The meeting was described as involving only Trump, Putin and Putins translator, and took place over an hour on the sidelines of a state dinner.
Wednesday

It was another day of bizarre twists in the wild ride of healthcare reform with Trump and Senate Republicans at the wheel. After declaring on Tuesday that Republicans would let Obamacare fail and let Democrats catch the blame, Trump told Republicans at a Wednesday lunch that they must not go on August recess until they delivered healthcare reform legislation to his desk to sign.
My message today is very simple, said Trump. We have to stay here. We shouldnt leave town until this is complete, until this bill is on my desk. We should hammer this out and get it done.
Read more: https://www.theguardian.com/us-news/2017/jul/22/tracking-trump-russia-healthcare