The U.S. labor market has moved past a couple months of hurricane disruptions and returned to its regularly scheduled programming: solid hiring but tepid wage gains that suggest things aren't as tight as the unemployment rate suggests.
Payrolls rose 228,000 in November, above the median economist estimate of 195,000, Labor Department figures showed Friday. Average hourly earnings increased 2.5 percent from a year earlier, less than the 2.7 percent projection, and October's figures were revised lower. The jobless rate held at 4.1 percent, the lowest since late 2000.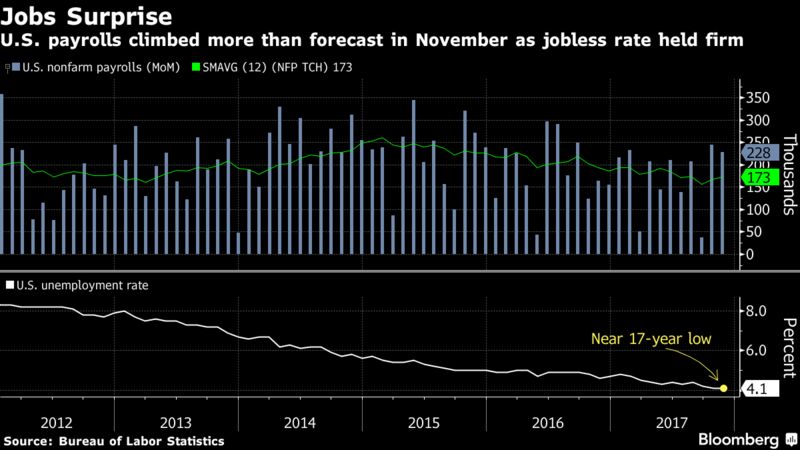 While the job market remains a bulwark for the economy and investors see a Federal Reserve interest-rate hike next week as a near-certainty, the lack of a sustained acceleration in wages remains a puzzle that could factor into the pace of increases in 2018. Jerome Powell, President Donald Trump's nominee to head the Fed, said last month at his confirmation hearing that he doesn't see wages signaling any tightness in the labor market.
"Wage growth has been muted thus far," especially given the "very healthy pace of job creation," said Michelle Meyer, head of U.S. economics at Bank of America Corp. "It's been the story throughout the course of this year," though a falling unemployment rate will "inevitably" push pay gains higher, she said.
A separate report on Friday showed U.S. consumer sentiment dipped for a second month while remaining around levels consistent with a steady economy and solid job market, with stocks near record highs. The University of Michigan's preliminary December gauge fell to 96.8, compared with the median estimate of economists for 99, as optimism waned and inflation expectations rose.
Average hourly earnings rose 0.2 percent from the prior month following a revised 0.1 percent drop, the report showed. Analysts had penciled in a gain of 0.3 percent for November. The gain from a year earlier followed a downwardly revised 2.3 percent advance for October.
Economists expect that in time, wages will post a sustained pickup, which has remained elusive in this expansion even though labor-market slack is steadily disappearing. Faster gains in paychecks would boost consumer spending, which accounts for about 70 percent of the economy.
What Our Economists Say…
"Even though job gains are well in excess of the natural growth rate for the labor market, labor scarcity is not yet driving wage pressures higher. The moral of the story from this jobs report is that full employment is indeed much lower in the current cycle relative to history. While average hourly earnings were tepid, the sizable payroll gain and increase in the nonfarm workweek indicate that there was substantial wage-income generation in the economy last month."
–Carl Riccadonna and Yelena Shulyatyeva, Bloomberg Economics
For more, see our full React piece.
The Trump administration has said the tax-cut proposal in Congress, if it gets signed into law, will spur growth and boost wages, though economists generally expect a modest impact.
Several measures showed the labor market remains fairly steady. The two-month gain in payrolls was the strongest since mid-2016. The U-6, or underemployment rate, remained near the lowest since 2006, while the participation rate, or share of working-age people in the labor force, was unchanged at 62.7 percent.
The breakdown of data showed healthy gains across many industries, particularly in manufacturing and construction. Health care and professional and business services also showed solid gains. Restaurants and bars, which had showed bigger swings in the prior two months due to the storms, added 18,900 workers in November.
Revisions to prior reports added a total of 3,000 jobs to payrolls in the previous two months, according to the report.
Steady household demand and a pickup in business investment — backed by elevated consumer and business sentiment and improving global demand — bode well for U.S. employment. 
Even with the above-forecast gain in November, payroll increases have been slowing the past few years, albeit in orderly fashion, as the labor market tightens. Economists say job gains above 100,000 a month are still enough to keep putting downward pressure on the jobless rate.
"Not that it was a hurdle to raising rates next week, but the Fed will feel very comfortable with this kind of a jobs report," said Ward McCarthy, chief financial economist at Jefferies LLC. "We continue to march toward full employment. Wages are moving in the right direction but they're still slower than we would have liked and certainly slower than what's expected at this stage of the cycle."
Other Details

The U-6 underemployment rate rose to 8 percent from 7.9 percent; measure includes part-time workers who'd prefer a full-time position and people who want a job but aren't actively looking
Manufacturing payrolls rose by 31,000; construction added 24,000, matching highest since February; retailers boosted staff by 18,700; hiring in leisure and hospitality rose by 14,000
People working part-time for economic reasons rose by 48,000 to 4.8 million
Private employment rose by 221,000 (median estimate 195,000) after increasing 247,000; government payrolls increased by 7,000
Average workweek for all workers rose to five-month high of 34.5 hours (median estimate 34.4 hours) from 34.4 hours
Read more: http://www.bloomberg.com/news/articles/2017-12-08/u-s-payrolls-rise-228-000-while-wages-gain-less-than-forecast