With the U.S. health-care system appearing incapable of taming runaway price inflation, Jeff Bezos, Warren Buffett, and Jamie Dimon think they can do better. Perhaps only titans with the resources of Amazon.com, Berkshire Hathaway, and JPMorgan Chase can contemplate such a thing. But changing the convoluted practices that determine drug costs will require them to take on powerful players who are already fighting among themselves.
Pharmaceutical companies have come under fire for the ever-rising five- and six-figure prices they charge for life-sustaining drugs. They say those numbers don't tell the whole story, because middlemen—the pharmacy benefit managers (PBMs) and the insurance companies they work for—collect discounts that aren't always passed on to patients. The industry is so emphatic about this argument that its lobbying group started a consumer website in January effectively waging war against the PBMs. Big Pharma's battle cry represents a previously unthinkable rift between two big forces in health care that for years quietly settled their differences away from public view.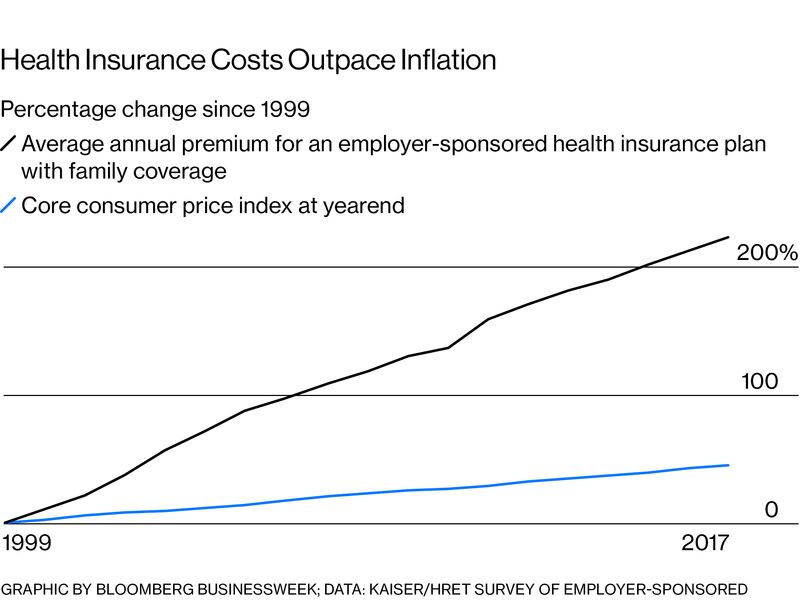 At stake is how the spoils of pricey drugs are divvied up in complex and shrouded negotiations among drugmakers, PBMs, insurers, wholesalers, and giant retail pharmacy chains. Consider Humalog, an Eli Lilly & Co. insulin drug, which in recent years has more than tripled in price, to $275 per vial, drawing the ire of lawmakers, patients, and consumer activists. But the company doesn't keep even 20 percent of that list price. Most of it flows to middlemen in rebates and other discounts, according to SSR Health LLC, an investment research firm. Rebate deals are being set up for other expensive drugs, such as Humira, AbbVie Inc.'s rheumatoid arthritis blockbuster, which costs more than $4,800 a month, and Harvoni, Gilead Sciences Inc.'s hepatitis C cure, which lists at $94,500 for a 12-week treatment.
This is the nut that Bezos and his partners will have to crack. Details about their plans are scant, other than that the venture will focus on better technology. And who knows? Perhaps the trio can pull off something truly remarkable. It would surely be a mistake to underestimate Amazon.com Inc.'s ability to blow up a market after the havoc it's wreaked on everything from books to electronics to household staples. But drug companies and health-care providers are different: They're already gigantic, backed by powerful lobbies, and, most challenging, at each other's throats.
Here's how rebates are supposed to work: A drugmaker sets a list price for a drug, say, $5,000 a month. That price is roughly what the drug would cost if you walked into a pharmacy and paid without any insurance. But pharmaceutical companies negotiate confidential rebates with insurers and PBMs to ensure a drug is covered; those can sometimes be 50 percent or more of the list price. Big PBMs have the power to kick a company's drug off of an insurance plan in favor of another in return for better rebate terms. In other words, PBMs can make or break a drug's success.
PBMs have been singled out for criticism before, but rarely has the noise been so loud. The rebate system "encourages manufacturers to set artificially high list prices," the White House Council of Economic Advisers said in February. Among big businesses, Caterpillar Inc. has come closest to throwing out its benefits manager. More than a decade ago, it came up with its own list of covered drugs and began negotiating directly with pharmacies, moves that it says have saved it tens of millions of dollars a year. But it still uses a PBM to collect rebates and administer claims.
The new joint venture could do something far more drastic if it bargained directly with drugmakers for top-selling medicines or even created an online bidding system for the manufacturers. The trio could partner with Rx Savings Solutions, for example, a startup with an app that peers into a patient's insurance plan to help find lower-cost drugs. Amazon could eventually open its own mail-order pharmacy to compete directly with PBMs. Recent speculation about an Amazon-like market for drugs has rattled investors in PBMs, pharmacies, and drug wholesalers.
CVS Health Corp. and Express Scripts Holding Co., two of the largest PBMs, say they welcome the Bezos-Buffett-Dimon initiative. Benefits managers say they're scapegoats for drugmakers desperate to justify prices. They say they keep a small fraction of rebates for themselves and pass on the rest to their clients. The system keeps prices in check, according to Express Scripts, which says drug costs in its commercial plans rose only 1.5 percent last year when rebates are included. Without PBMs, drugmakers "would charge whatever they want," says Glen Stettin, an Express Scripts senior vice president. "We've taken a lot of their pricing power away."
Big Pharma paints a different picture. In ads, the Pharmaceutical Research and Manufacturers of America points out that many patients can end up paying the full price of a drug, even when their insurer, employer, and PBM benefit from rebates. This is because millions are on high-deductible insurance plans. "We are paying rebates against that same sale where people are paying full price," says David Ricks, chief executive officer of Eli Lilly. "Our view is those rebates should be passed through in the point of sale."
Lilly is trying something different with its own employees: giving them rebates directly rather than keeping them all for itself—a kind of blueprint for how the industry could push back against PBMs. It's not an altogether new idea: General Motors Co. started providing upfront drug discounts for some of its employee plans in 2010. The concept is gaining traction in Washington, where President Donald Trump proposed sharing "a substantial portion of rebates" with patients in the Medicare drug program for the elderly in his fiscal 2019 budget, released on Feb. 12.
Benefits managers contend that the concept is no miracle cure. They already give the majority of rebates, about 90 percent, to employers, unions, and health plans, PBMs say. In essence, giving rebates to employees may mean the company that ultimately foots most of the bill won't get some of the savings it relies on to keep premiums down. Express Scripts offers companies the option of giving rebates to employees, but few have chosen it. CVS says it also offers clients that option and gives its own employees rebates.
When presented with the option, most big companies "decide to keep the rebate for themselves," says David Dross, leader of the managed pharmacy practice at human resources consultant Mercer. Employers want the checks to keep down premiums and other health costs, he says.
Trump's proposal to pass Medicare rebates through to patients faces opposition from PBMs. The Pharmaceutical Care Management Association, which represents the companies, recently wrote a 45-page rebuttal explaining why giving rebates to these customers doesn't make sense. AARP, the advocacy group for Americans older than 50, worries that diverting rebates to Medicare patients on expensive drugs would drive up premiums for everyone else in the program.
Passing rebates through to the end user may be good for patients who need costly drugs, but it's not going to untangle the web of pharmacies, wholesalers, insurers, and PBMs—all of whom may profit in some way from rising drug costs even as they wag fingers at drug companies for causing the problem. In the U.S., on average, $15 of the $100 spent upfront on brand-name drugs goes to middlemen, estimates Ravi Mehrotra, a partner at investment bank MTS Health Partners LP. In other developed countries, they get only $4 of every $100 spent, he says. Until that changes, prices are likely to keep heading higher.
BOTTOM LINE –
The U.S. drug pricing system is in need of fixing. But almost all of the interested parties stand to profit by retaining the very expensive status quo.
Read more: http://www.bloomberg.com/news/articles/2018-02-14/what-stands-between-bezos-buffett-and-dimon-and-a-health-care-fix